AUSTRALIA'S FIRST
NET ZERO EMISSION GLOVE
Fully certified with help from The Carbon Consulting Company and The Sustainable Future Group, the Neo Flex is certified net zero to the ISO 14064-2 Standard through carbon insets, as well as Sedex certified, REACH compliant, Oeko-Tex certified, Sanitized and made in Sri Lanka.
Neo Flex is the best option for your business and our environment.
SUPPORTING INDIGENOUS COMMUNITIES
Help support indigenous communities with donations from the sale of all Martula products
Supporting charity is important to Your Safety Factory, and with heritage ties to Circular Head in Tasmania, we are proud to provide donations to the Circular Head Aboriginal Corporation (CHAC).
Martula is the Aboriginal name for the Circular Head region, and we are proud to have developed our unique and distinct Martula range of products, with direct donations made to CHAC against sales of each product. Your support of our Martula range will help us make a difference to the Indigenous people of Circular Head.
Brand New & Available Now
We are always looking to provide the best products at the best prices, and our line of PPE and Safety Supplies is constantly being updated and upgraded. Check out the latest products – some brand new from top to bottom, and some simply exciting updates to existing items – like Cut Resistant-grade updates, new colours or sizes.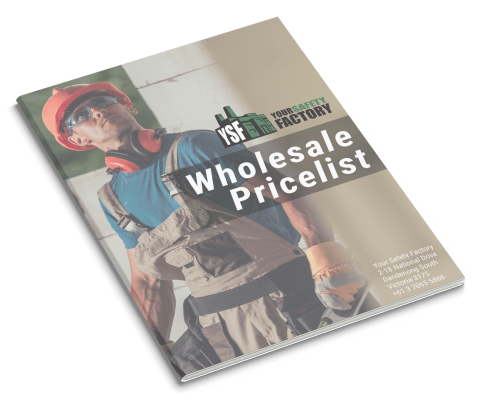 Drop your email in the form below and we'll send you the latest copy of our price list, as well as information regarding the ordering process and our contact details.
Your Safety Factory is more than just a supplier.
Your Safety Factory is invested in your success.
Our team consists of a range of PPE and Safety Supplies professionals who share in the importance of building friendships with our customers and suppliers.
These mutually beneficial relationships allow us to act fast bringing you the world's best products that are innovative, sustainable and competitively priced.
Over many years we have built loyalty and respect with our partner factories, enabling us to be reliable and flexible when fulfilling our customer's needs.
Your business will benefit when you partner Your Safety Factory – a Supply Nation Certified, Sedex Member company that was one of the first Industrial Suppliers to link charitable donations from its most popular products. You'll know that you're making a difference.